August 15, 2020
Little Spaces
The Perfect Oasis for Two
There are many benefits to having your children share a room. Not only will they benefit from more bonding time, learn important life skills around sharing space and compromise, but most children will also feel more settled at night time knowing there is someone else nearby.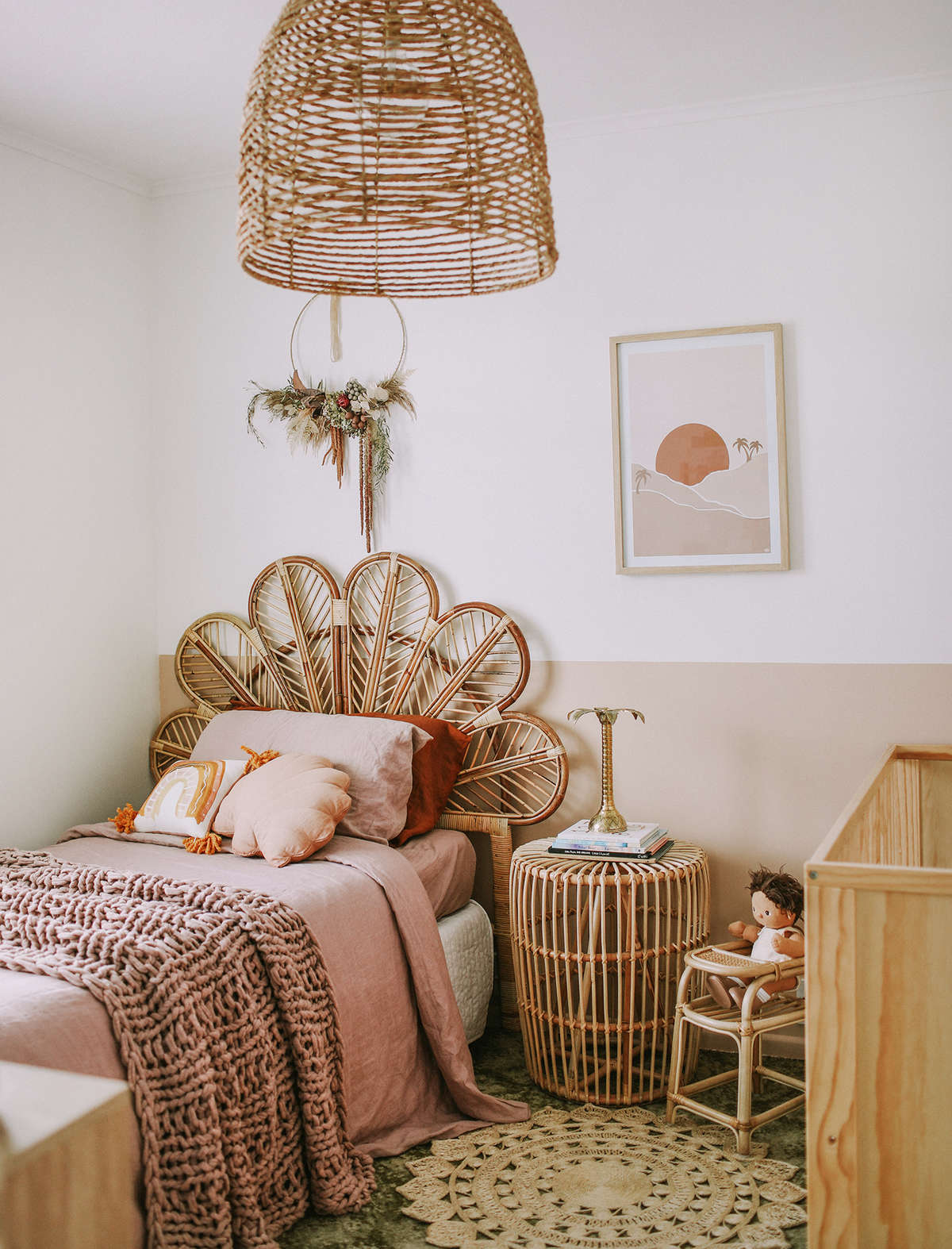 We have fallen in love with this beautiful shared room created by Amie Brodie for Amira (5 years) and Ari (almost 2). We talk to Amie about how she put the room together...


What sort of space were you trying to create when putting together Amira and Ari's room?
Firstly I needed to create a space that would work for a boy and a girl as Amira and Ari share this room. I had been saving inspiration from posts I'd see on Instagram. There are so many beautiful accounts to follow on Instagram. I love the half wall colour block trend right now and had my heart set on a beige and instantly fell in love with Dulux colour Tapawera. Amira, being a girl loves pink but I needed to incorporate a colour with this that could work for a boy. I looked at linen colours and Fox Trot linen is my go to. I really liked the look of Rosewood with the Tobacco, thinking that when Ari progresses to a big bed he would have the Tobacco duvet. So I had my colour palette. I love Rattan furniture and boho style /beach/palms so I started picking out all the pieces I thought would work to create an oasis for my babes.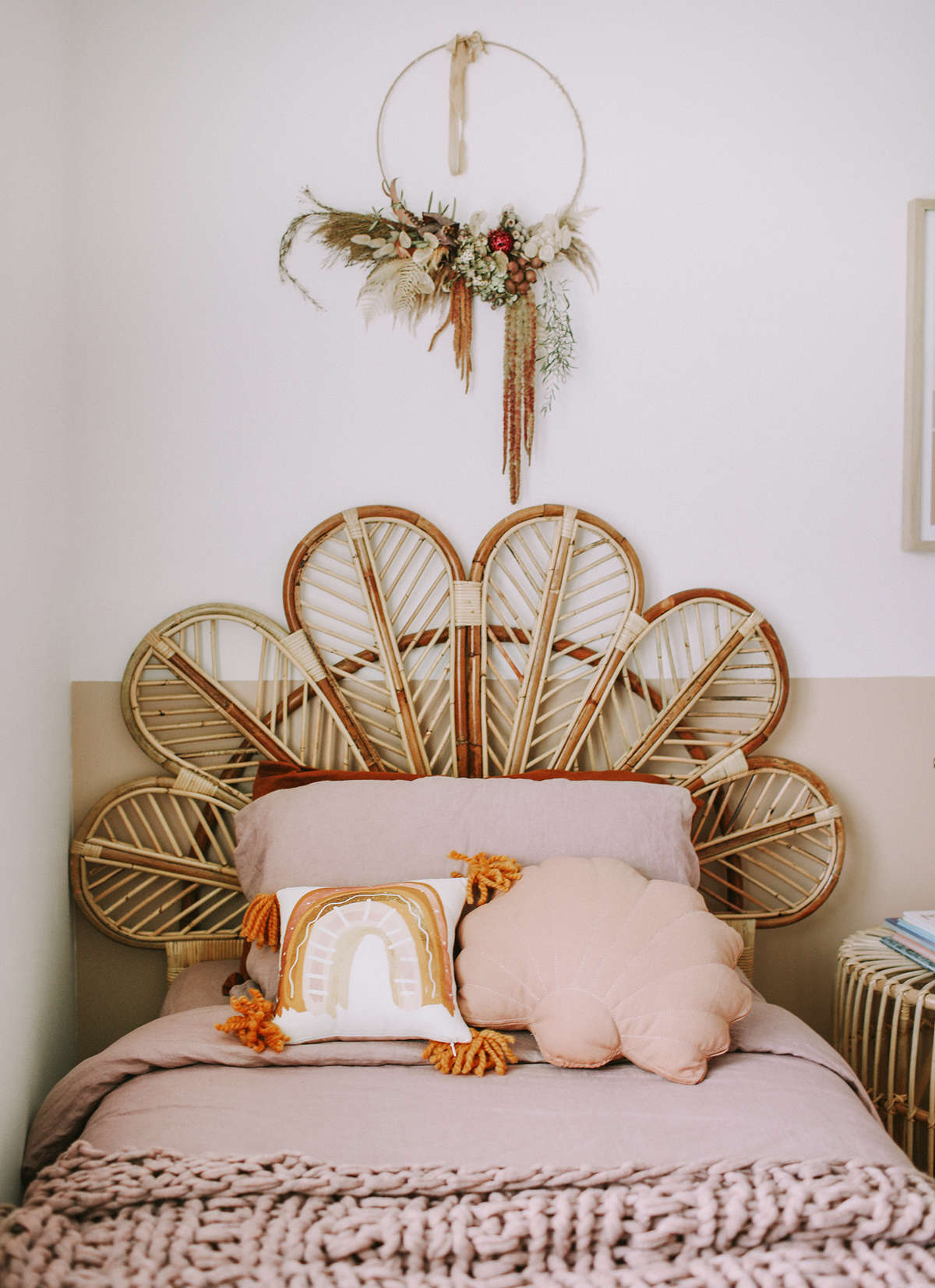 How old are Amira and Ari? They seem to have such a lovely relationship! And did that age difference change the way you set up the space?
They get along really well! I have perhaps focused more on Amira in this room. Ari has a shelf with a few little pieces but once he gets older and in a big bed I will incorporate some more masculine features on his side. He's at an age where he doesn't care what his bedroom looks like as long as there's toy cars he's happy.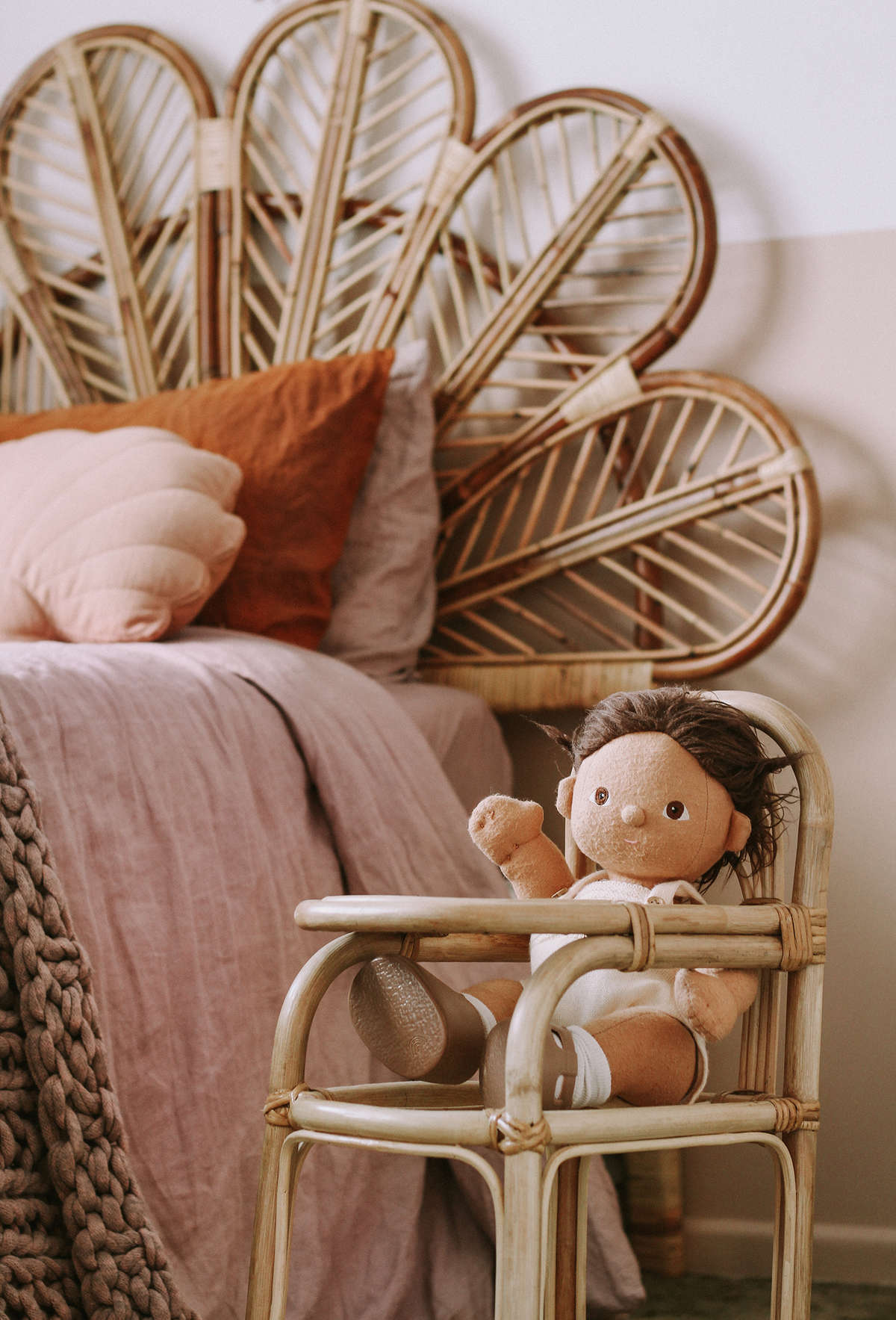 What is your children's favourite thing about the room and why?
Amira loves her bedhead because it's like a flower and she feels like a princess in her bed. Ari isn't fazed, but he has taken a liking to the brass palm tree haha perhaps because it's shiny.
What is your favourite thing in the room and why?
Oh my gosh I actually love it all. I couldn't give you just one piece. I love the rattan furniture, especially the bedhead, such a beautiful feminine shape. I love the brass palm - just really finished off the space and it ties in with the beautiful custom print I had made by The Lagom Design Studio. The dried flowers wreath because I'm obsessed with dried flowers at the moment. See I love it all!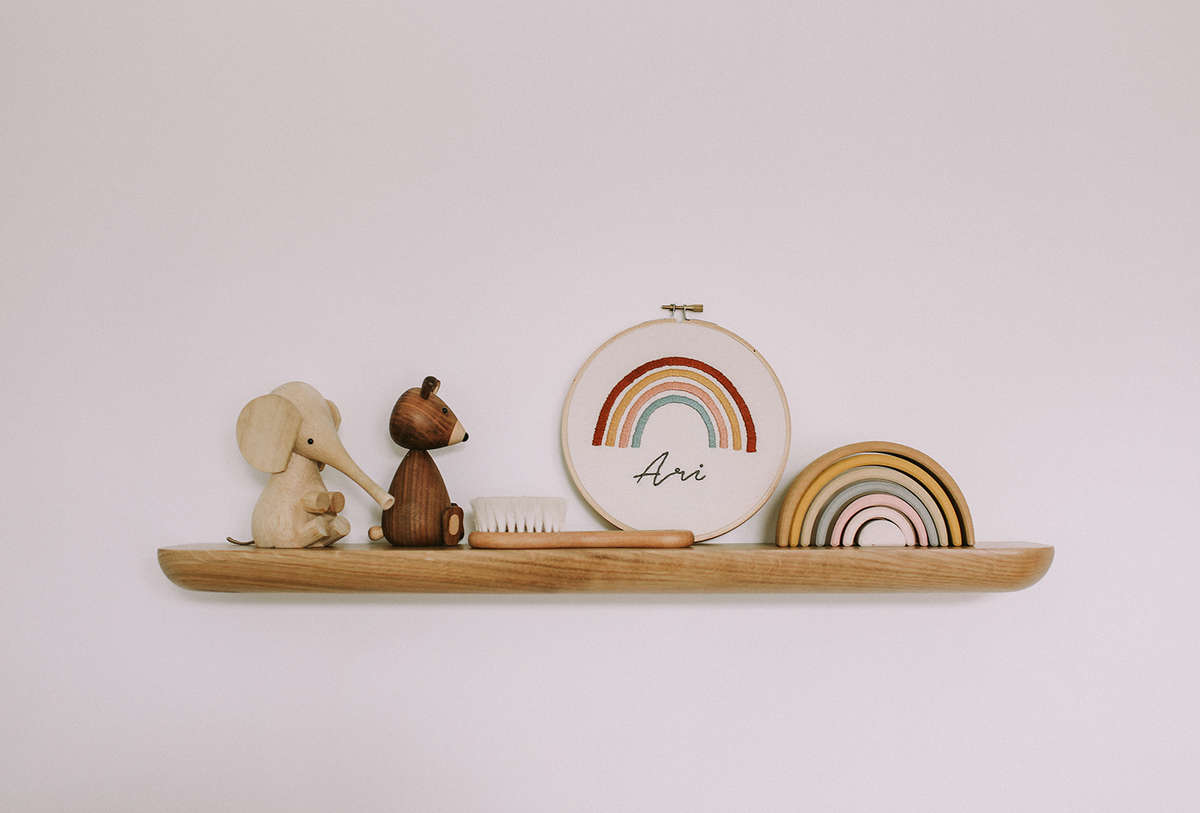 What are your top five tips for someone wanting to create a shared bedroom for their children?
1. Think of colours that will work for both a boy and a girl
2. Think about what pieces will work for a boy and a girl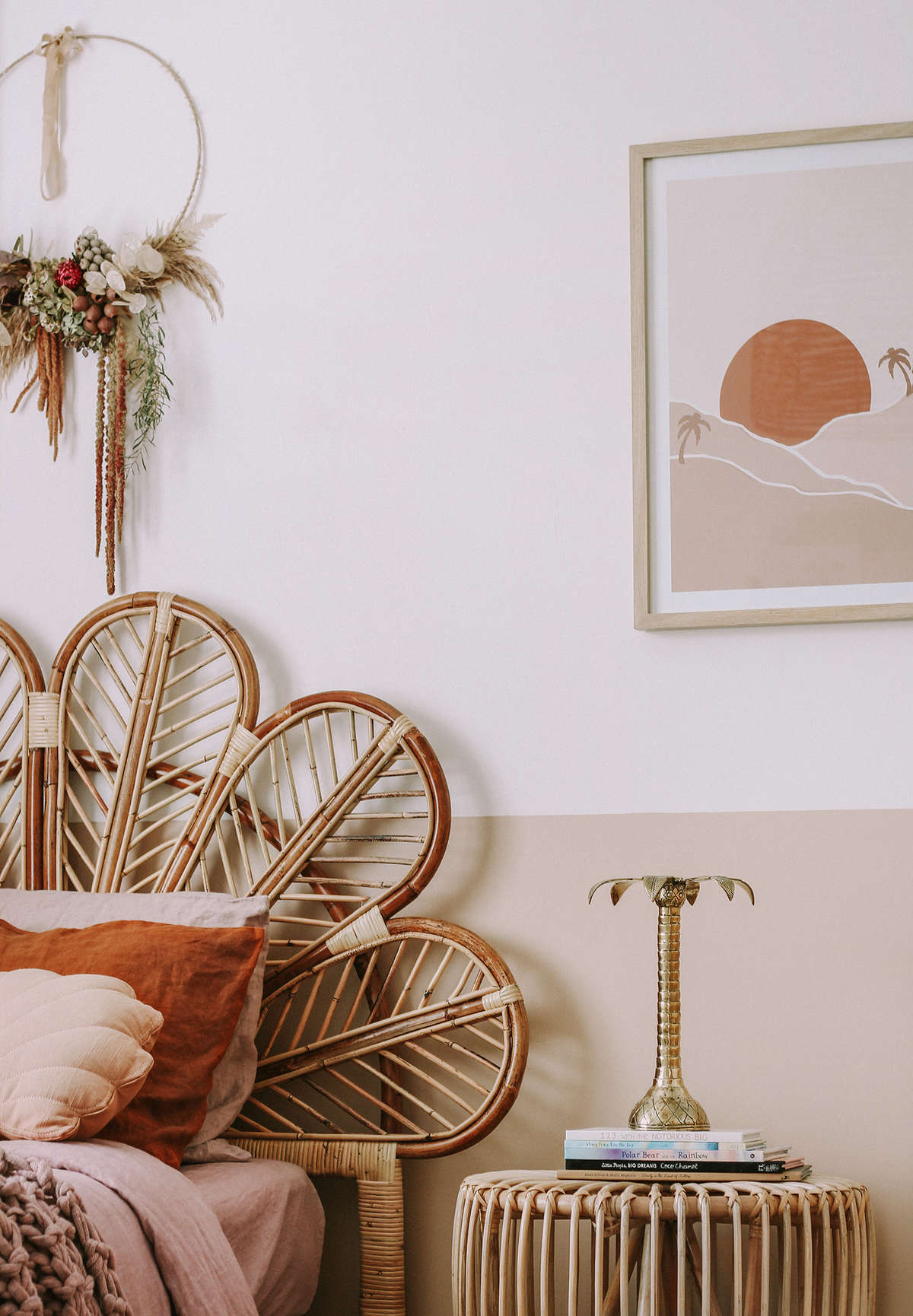 3. Think about how as they grow you may need to add or change things as this will affect how you create things now.
4. Start saving inspiration from posts you see on Instagram or Pinterest. There are so many accounts to follow for inspiration and ideas.
5. Have fun.... a kids bedroom is my favourite room to create, you get to create a space for your child to enjoy!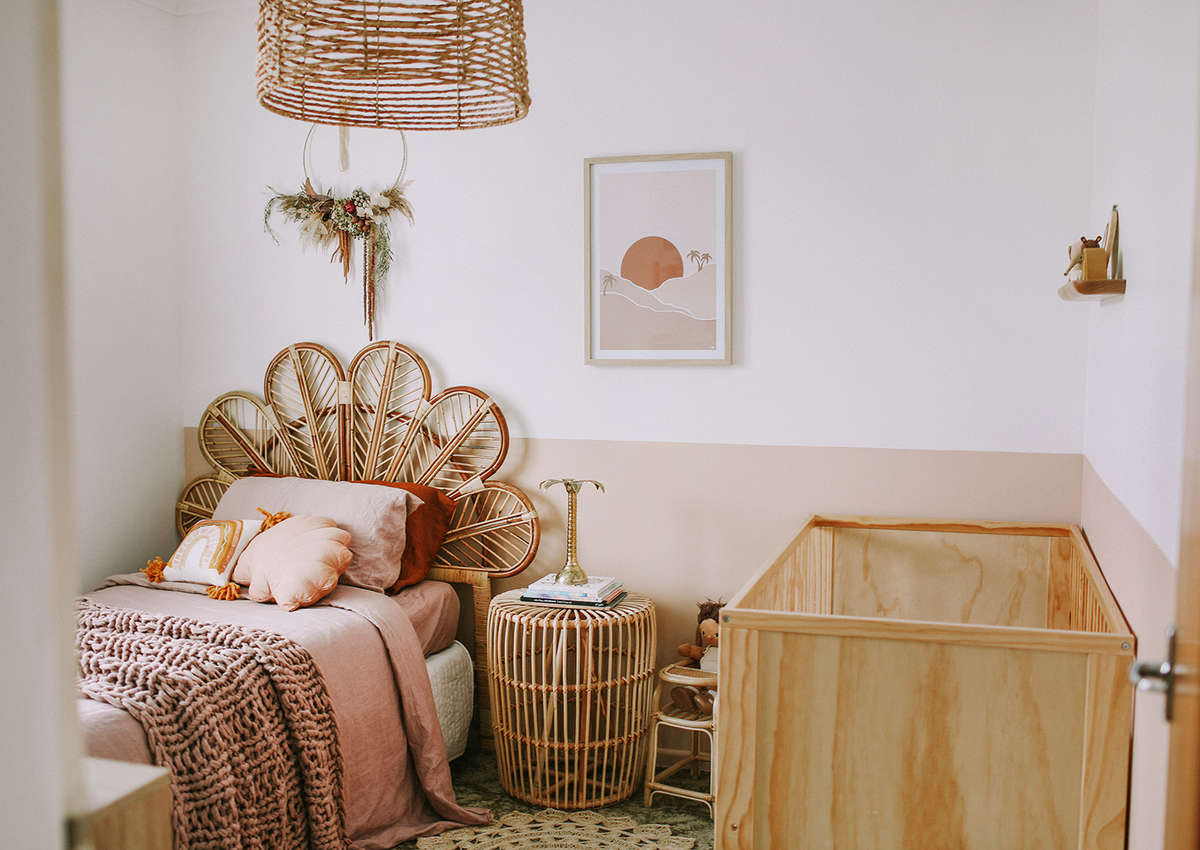 What are your favourite pieces at Little Gatherer right now?

This gorgeous room is brought to us by Amie Brodie. Follow her over on instagram
@amie.brodie
for beautiful photography, interior design and fashion.

Leave a comment